---
Retaining Wall Monitoring
Successful Results
Location: River Wandle, London, England
The remote real-time monitoring allows for quick response times and decreases the logistics required for monitoring along the river walls. Potential costly disruptions to the project and surrounding environment are now minimized. The River Wandle returned to its natural state and improved its biodiversity.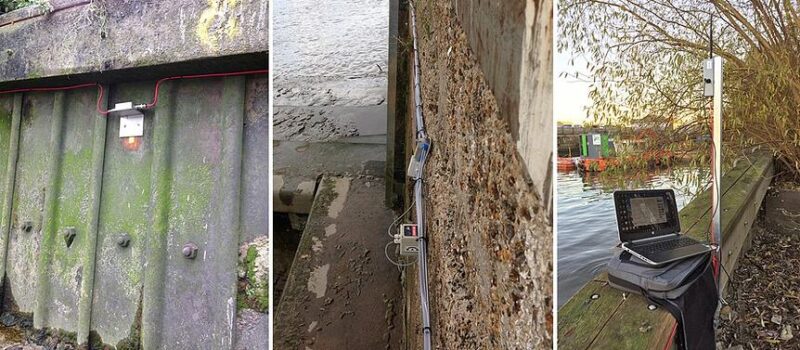 Background
The River Wandle joins the River Thames on the Tideway and runs about 14 kms (9 miles) long throughout the southwest sector of London, England. A defunct half-tide weir that existed at the junction of the Wandle and the River Thames was hindering the river's natural fl ow and biodiversity. RST already had some of its monitoring instrumentation installed along the river walls from previous years that was still in use.
Scope/Objective
With support from The Environment Agency, the Marine Management Organization, and the Port of London Authority, the half-tide weir on the River Wandle was set for demolition to improve water fl ow, water quality, and restore lost wildlife habitats.
Challenges
As a result of the anticipated demolition, concerns were raised in regards to the stability & condition of the existing river retaining walls. The site engineers concluded that additional monitoring instrumentation would be required, but it would need to be incorporated with the existing data logger set up – without adding excessive costs to the project. Wireless monitoring was also essential since the sensors would be installed on either side of the river walls where conditions were hazardous and diffi cult to access for manual readings.
Solution
RST's In-Place Tilt Meters and Submersible Tilt Meters were installed along the east retaining wall of the River Wandle to measure rotation. RST was also able to install and incorporate an RSTAR L900 RTU within the existing data logger system. It allowed for wireless readings from the new and previously existing instrumentation at a reasonable price.
Benefits
The RSTAR system incorporated the new and existing instrumentation at a reasonable price. The new wireless capabilities minimized the safety issues and hazards related to the collection of sensor data.
Partners featured in this success story
Wandsworth Council,  RL Geotechnical, Crouch Waterfall, Land & Water
---
GET YOUR OWN COPY OF THIS SUCCESS STORY