Critical asset data at your fingertips
Designed by RST's team of instrumentation experts, RSTAR Affinity is a complete solution for geotechnical monitoring projects where wireless automated data collection is the top priority. RSTAR Affinity is an integrated system that connects every element of data communication in one reliable chain, encompassing durable data loggers, secure gateways, an innovative field utility app, and a powerful data presentation dashboard featuring robust site management tools. By establishing a fully integrated data flow, RSTAR Affinity provides a level of efficiency and reliability that rises above improvised systems cobbled together from various third-party vendors. 
 
RSTAR Affinity represents the next step in the evolution of the trusted RSTAR system. Built for harsh real-world conditions, RSTAR Affinity is incredibly durable and easy to configure in the field. Unique among site monitoring systems, it combines instrumentation with communication, incorporating industry-leading sensors into Industrial Internet of Things (IIoT) architecture. Every feature of the system is designed to be simple, elegant, and reliable. 
 
Below is an overview of the innovative components and features that make RSTAR Affinity the most flexible, user-friendly, and reliable solution for the wireless automation of geotechnical monitoring projects. 
RSTAR Affinity Data Logger 
Durable and versatile, the RSTAR Affinity Data Logger is a multi-sensor digital node that connects instruments with an innovative quick connect cable or conventional cable glands. Put simply, the RSTAR Affinity Data Logger is a tough, purpose-built device that can be installed easily, configured quickly, and left to do its job reliably in harsh conditions. 
 
The RSTAR Affinity data logger's compartmentalized design isolates the data logger's circuitry in a rear compartment, protecting it from water and particulate damage in the field. The data logger is simple to install and service, and no specialized tools are required for the job. It's IP67 conditioned and designed to withstand extreme operating conditions, enabling it to perform in temperatures ranging from -40˚C to 60˚C. 
 
The RSTAR Affinity Data Logger is highly scalable and flexible, designed specifically to support changing requirements in the field. Its five channels allow the data logger to connect to up to five instruments simultaneously. The channels can be individually configured in the field to collect data from different signal types, eliminating the need to pair every instrument with its own discrete data logger. The data logger's energy capacity is also configurable, enabling its power supply to meet the needs of instruments, like Measurand's ShapeArray, as they are added to the network, in addition to allowing the easy replacement of batteries. 
RSTAR Affinity Digital Suite 
RSTAR Affinity's software platform is a browser-based dashboard, offering a powerful suite of data visualization and reporting utilities, along with a companion mobile application. RSTAR Affinity's interface is simple, and intuitive, putting actionable data at the user's fingertips. Its site-based design is easy to navigate, offering a complete view of current asset health. Configurable reports are readily available, as is the ability to view and export specific instrument-based data. By navigating a site's digital map, users can traverse an entire instrumentation network quickly and efficiently. 
 
RSTAR Affinity provides a unique set of site management features. Alerts, alarms, and user management tools provide essential support for remote monitoring projects. The software can support multiple sites simultaneously, allowing users to monitor global operations at the touch of a button. 
RSTAR Affinity Field App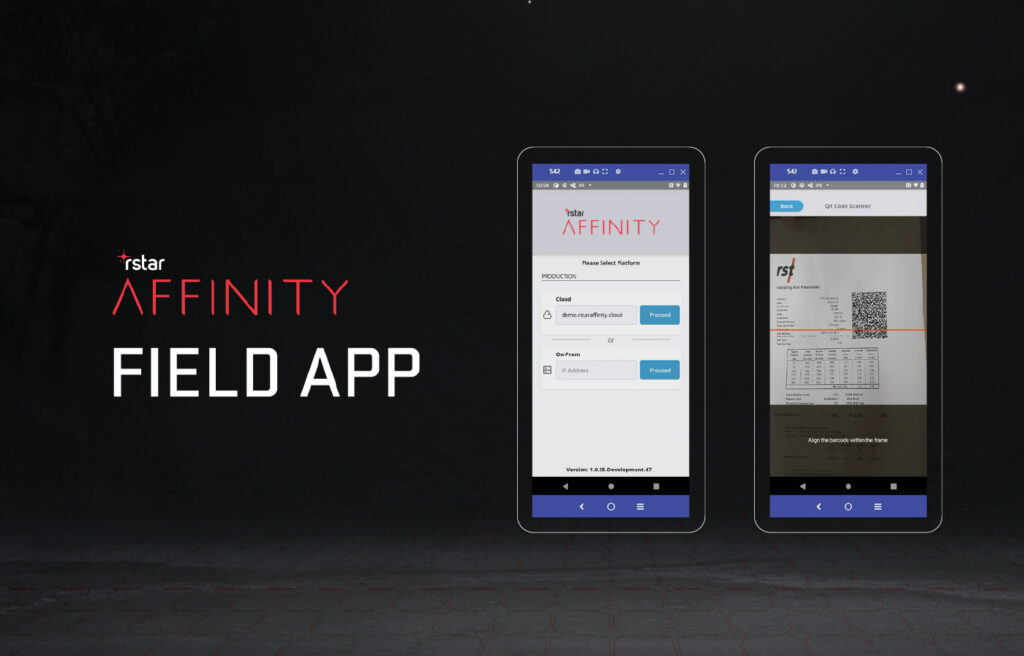 RSTAR Affinity's new field mobile app is a plug-and-play configuration solution, taking the headache out of setting up a data communication network. The handheld app automates the configuration process, saving technicians a significant amount of time and effort in the field. Once connected to the data logger via Bluetooth, the app can be used to add a sensor to a network simply by scanning a digital tag on the instrument. 
 
Automating this process saves an average of four hours of installation time per sensor. The Terra Insights mobile app makes setting up a network quick and easy—technicians will no longer need to spend hours in the field struggling to manually enter data in extreme weather conditions.  
Open API Data Access 
RSTAR Affinity adheres to best practices for accessing, traversing, and using instrumentation data. It integrates seamlessly with third-party data management and presentation software via a RESTful Open API. The open API allows users to retrieve data to use as they see fit. Users can engage with data through their own front-end software, enabling the software platform to integrate perfectly with virtual representations of physical sites. 
 
Robust API documentation includes a guide to the services available, a description of classes and methods in the API, typical use scenarios, code snippets, design rationale, performance discussions, "contracts" and support for enrichment with metadata from third-party software. 
 
RSTAR Affinity's digital suite is also OpenAPI 3.0 compliant. 
RSTAR Affinity Gateway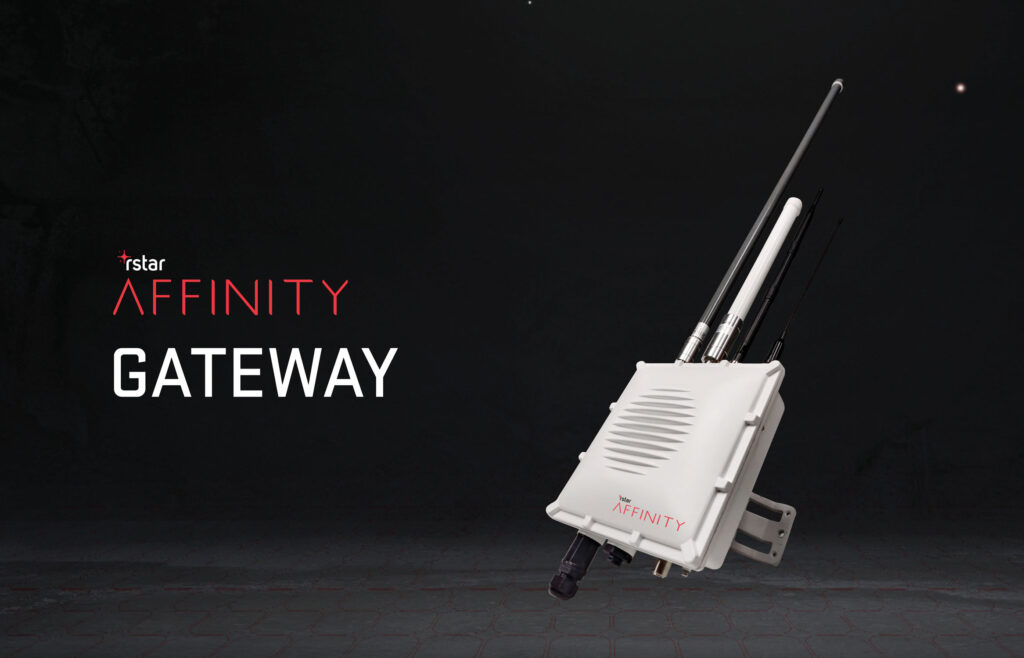 The self-locating RSTAR Affinity Data Logger automatically connects with the touch of a button to the nearest RSTAR Affinity Gateway, saving hours of network configuration time. The gateway functions like a router, transmitting a steady stream of real-time data to IT infrastructure. Outbound communications are transmittable via Ethernet, Wi-Fi, or cellular 4G. The gateway is also 5G/LTE-M ready. Satellite communication can also be supported with an additional satellite modem. 
 
Clients with existing RST Instruments' RSTAR Array Radio Series networks for remote wireless data acquisition can continue to scale and expand their monitoring strategy with RSTAR Affinity. When configured at the time of order, an RSTAR Affinity Gateway can employ radio communications with existing data acquisition systems to continue to extract that data.  
 
The RSTAR Affinity Gateway features a flexible deployment architecture, designed to support both on-premises and remote monitoring scenarios. For on-site monitoring projects, the gateway can be configured to run on servers located on-premises, enabling sensitive data to remain secure on an isolated LAN. For remote management operations, cloud-based deployments allow the network to be accessed and managed anywhere in the world through a web browser. 
 
RSTAR Affinity gateways employs LoRaWAN, a low power, wide area networking protocol. LoRaWAN is designed to wirelessly connect battery-operated devices to a network, enabling IIoT features such as end-to-end security, bi-directional communication, mobility, and localization services. LoRaWAN gateways can communicate to loggers up to 15km away dependent on sight lines and topography. 
Key benefits of an end-to-end system 
RSTAR Affinity provides a fully end-to-end solution for geotechnical monitoring projects. No other system brings together industry-leading geotechnical instrumentation hardware with innovative networking. It delivers all functions in the data chain, from collection to presentation, all from a single source. There's no longer any need to figure out how to patch together improvised solutions from different vendors. By offering a seamless solution, RSTAR Affinity eliminates redundant, duplicate, and inefficient efforts in generating data flow. 
 
RSTAR Affinity is far simpler to set up than traditional data acquisition systems built with third-party loggers, saving hours of installation work in the field. RSTAR Affinity's field mobile app enables technicians to quickly add instrumentation to the network, allowing the data flow to keep in step with changing site requirements. Durable, self-locating data loggers connect instantly with RSTAR Affinity gateways, communicating a steady stream of secure data via leading-edge IIoT architecture. Users can readily view and analyze data with the intuitive dashboard or integrate into existing systems via an open API. 
 
By encompassing data collection, communications, data insight, site management, and remote monitoring, RSTAR Affinity introduces a unique turnkey connectivity solution to the market.  
Contact us to learn more about the next step in the evolution of the RSTAR system.
Speak with an Expert
I'm very happy with the quality of the instrumentation and technical support from RST, as always. They worked with us from the initial stages of the project to ensure that we were fully prepared and equipped to use the RSTAR network for the first time. They delivered everything within the tight project time frame to ensure that there were no delays on site, and the submersible tilt meters looked like new even after over twelve months of being submerged in Thames water!

-Richard Lipscombe, BEng (Hons), Director & Principle Consultant - RL Geotechnical Ltd
Related Posts
Terra Insights' Savanna Herman and 3vG's Murray Down presented Wide-area linear infrastruc...