---
Digital evolution of geotechnical monitoring webinar
Digital evolution of geotechnical monitoring webinar recap and questions & answers
3vGeomatics' Parwant Ghuman, along with RST Instruments' Pierre Choquet and Terra Insights' James Saunders presented a live webinar, Digital Evolution of Geotechnical Monitoring, that explored what the phrase "smart monitoring" means to geotechnical monitoring, as well as emerging technologies in the field. In doing so, the experts discussed what technological solutions have a role to play in critical asset management and risk mitigation strategies. The presenters made the case that the digital evolution of geotechnical monitoring also enables smarter geotechnical monitoring.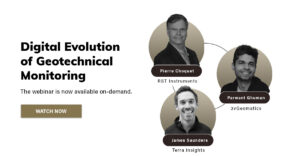 A number of different questions were posed by attendees to the panellists. We've highlighted three of the questions below.
Watch the on-demand recording to see the entire question and answer section.
What is the current trend most worth following in geotechnical monitoring?
While AI and machine learning seem to be a major talking point at present—machine learning can and often does produce better results than traditional algorithms—remote sensing is actually the number one trend to keep an eye on. Advances in satellite technologies and remote sensing (specifically InSAR and drones) are allowing for simpler automated real-time monitoring and better data visualization and interpretation. These advancements have revolutionized the way we measure very small ambient vibrations on steel and concrete; they've allowed us to monitor both vertical and horizontal deformation in the ground, and they have strengthened our ability to measure multi-point pore pressure. As InSAR and drone technology continues to advance, so too will manufacturers' ability to deliver data that matters to their clients.
How should a MEMs inclinometer's drift over time be addressed?
Even with the newest generation of IPIs released two years ago, this issue is always going to be a constant. If there is any drift in an IPI, a good portion of it comes from minute mechanical adjustments that occur just after installation.
Therefore, waiting a day or two before taking your baseline measurements is important. The components—including the sensors, the extension bays, and the joints—need 24 to 48 hours to settle. Once they have, you should then be free and clear to take your first measurements.
How should mining engineers react when InSAR information reveals an area where new movements are detected, such as on a tailing dam?
First and foremost, a visual on-site inspection is necessary. The next crucial step is reviewing available local geological monitoring and instrumentation information that you have already gathered. Gathering and analyzing the following data should help engineers properly assess the situation:
The state of the foundation
The borehole logs review
Back analysis of additional numerical modelling
Sampling CPT testing
Geophysical surveys
Eventual remedial design measures such as reducing the slope or building an abutment or discharging tailings
Of course, you should also be following your trigger action response plans (TARPs). Proper instrumentation in place during both the design phase and throughout an operating lifespan should trip trigger alarms when deformation data exceeds thresholds. This type of approach allows engineers the ability to better predict and mitigate risk during the design phase, construction, operation, maintenance, and closure and post-closure activities.
---
This blog is a part of a series that recaps the topics explored in Digital Evolution of Geotechnical Monitoring presented by Terra Insights. Watch the webinar on-demand to learn how advances in monitoring technology have had wide-ranging impacts, from the design of instrumentation sensor components to wireless data acquisition and connectivity to space-based satellite imagery.
We'd love to hear your thoughts, contact us today
Related Posts
Terra Insights' Savanna Herman and 3vG's Murray Down presented Wide-area linear infrastruc...